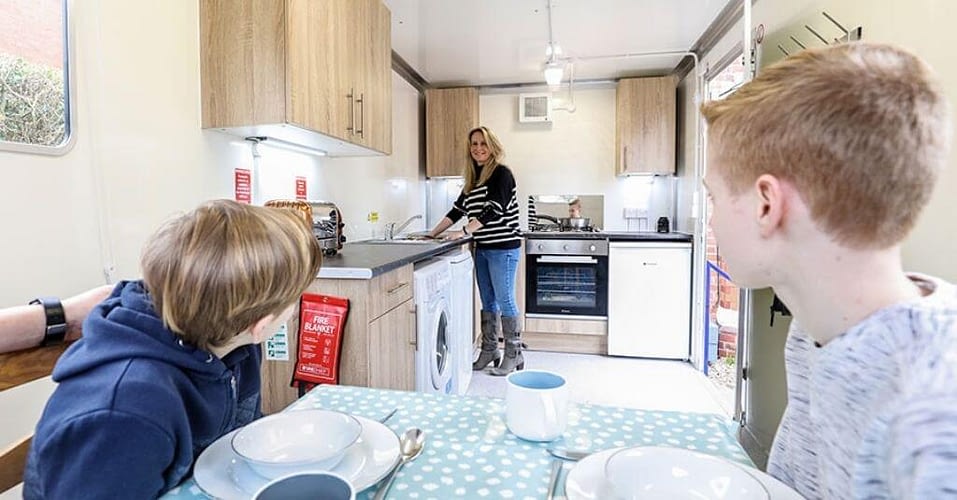 Here at Temporary Solutions Group, we understand that there are instances where you may not have access to certain areas in your home. This is why we have created temporary solutions that we can supply when disaster strikes.
Temporary Kitchens
If disaster strikes and you are left without a kitchen, we are here to provide a temporary solution that will allow you to remain in your home. We offer a variety of fully functional kitchens that can be easily installed in any home so that you can regain a sense of normality no matter what the situation.
XL Capsule Kitchen
Our XL Capsule Kitchen has a smaller footprint than the average 3-seater sofa and can be installed in any room in your house, making it the perfect solution for homes with limited space. It is a fully functioning kitchen that can be delivered and assembled in less than 2 hours.
Junior Capsule Kitchen
Our Junior Capsule Kitchen is again perfect for flats or smaller homes, it is a small but mighty temporary kitchen solution that is fully equipped with everything you need including a hob, sink and oven. Whilst it doesn't include a fridge, this can be provided as a separate element.
XL Kitchen Suite
Our XL Kitchen Suite is the ideal solution if a kitchen cannot be set up in your home. We know that in some circumstances it is not possible to install a kitchen in your home, which is why we have developed a fully-equipped portable kitchen that has been designed to sit on your driveway.
Junior Kitchen Suite
Our Junior Kitchen is our most popular temporary solution, it combines a compact design with the quality and utilities found in a modern kitchen, such as a gas range, electric oven, refrigerator, and dishwasher. It contains a seating area and is wheelchair accessible.
Temporary Bathrooms
There are many things in your home that you can live without for a period of time, but a bathroom is not one of them. We created our temporary bathrooms to allow people to remain in their homes should disaster strike. We provide a range of temporary bathrooms to suit every situation.
Capsule Shower
Our capsule shower is a stand-alone sealed shower unit, that can be installed anywhere in the home with no damage to your flooring or walls. It is an ideal solution for when you are having issues with your bathroom that would otherwise have caused a major inconvenience.
Bathroom Suite
Our Bathroom Suite is a fully functioning temporary solution that contains all of the amenities you would expect from a modern bathroom including a toilet, shower cubicle, washbasin, hairdryer and heated towel rail. It has been designed to be installed on your driveway, where you can keep it for as long as you need.
Temporary Storage
We created our temporary storage units to give you somewhere secure to store your belongings in the event of a disaster in your home. Our pods are all lockable, weathertight and include lighting and temperature control meaning you can rest assured that your items are completely safe.
Temporary Modular Living
Our Modular Living solutions are created in sections, allowing them to be erected to any size and with no limitations on use. Our Modular range includes kitchens and bathrooms and we can accommodate anything the customer requires including solutions for those with restricted mobility.
Modular Kitchen
Our Modular Kitchen range combines our temporary indoor kitchen options with outdoor Modular Suites to give you a fully working kitchen. They provide you with the option of having a temporary kitchen built in their back garden or anywhere on their property should your kitchen be unusable.
Modular Bathroom
Our Modular Bathrooms Suites allow us to construct Modular Toilet Suites, Modular Shower Suites, or a full Modular Bathroom outside of your home. They are fully equipped with all the amenities you would find in a modern bathroom. They have been created to ensure that our customers can remain in their homes when their bathrooms are out of action.
Adapted Living
If you have been diagnosed with a long-term illness or you have suffered a serious injury, you may require adaptations to your home, however, these adaptations can be extremely time-consuming. We have created a range of adapted living solutions to ensure that you can stay in your own home while you are having work done.
Adaptive Bathroom Extension
Our Adaptive Bedroom Extensions are accessible to those with restricted mobility and can be provided with essential equipment and accessories including hoists, grab rails, shower seats and more. Our adaptive bathroom extensions can be designed for your specific needs and our team can discuss any requirements before manufacturing.
Adaptive Bedroom Extension
Our Adaptive Bedroom Extensions are designed to not only be functional but also homely. All bedrooms can be adapted to each specific circumstance, to include any equipment you may require including ceiling track hoists, grab rails and more.
Adaptive Kitchen Extension
Our Adaptive Kitchen Extensions are fully functional and feature bespoke designs that centre around your specific requirements, whatever they may be. Our accessible kitchens' modular design, combined with our unique building approach, means that no harm is done to your property and that no planning permission is necessary.
Above are some of the temporary solutions we can supply you with if disaster strikes. We want to be there for you in difficult circumstances and ensure that you can remain in your home, as well as to provide you with a sense of normality in what can feel like an abnormal situation.
To learn more about the temporary and adaptive solutions that we provide, click here.