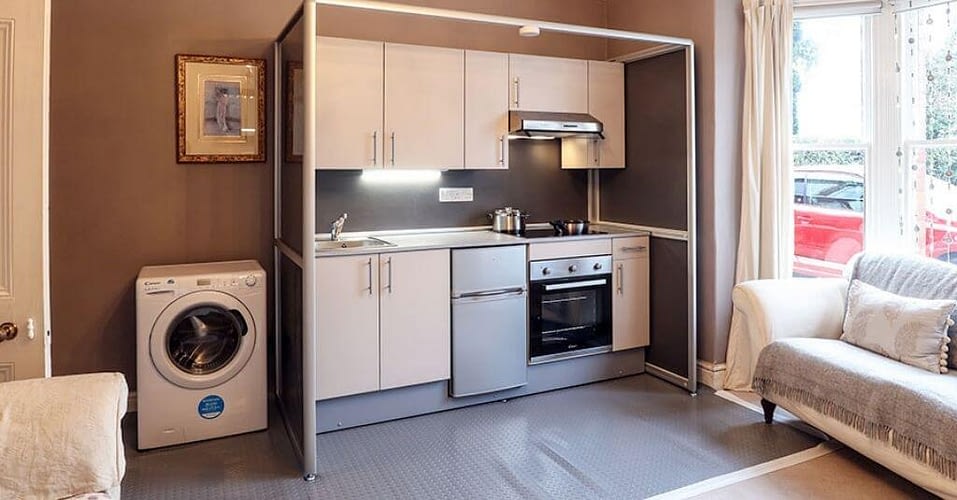 Here at Temporary Solutions Group, we have designed our temporary kitchens as a solution to a number of different problems that you may be faced with.
If disaster strikes and you are left without a kitchen, we are here to give you peace of mind. Our unique and diverse temporary kitchen solutions will ensure you can remain in your home with a fully functional kitchen.
Flooding
Almost every home in the UK has some level of threat from flooding and unfortunately, flooding has the potential to create long-lasting damage. If you have experienced flooding in your home, you will likely need to issue repairs that can be costly and time-consuming. We want to do everything we can to ensure that you can stay in your home while repairs are taking place to minimize your costs. We offer a friendly and efficient temporary solution service where our team aim to deliver and install the kitchen in under two hours. We have a variety of kitchen solutions available that can be provided for both short term and long-term situations.
Temporary kitchens after a house fire
House fires are devastating and can cause significant damage to areas of the home, with many often originating in the kitchen. We understand that when you are dealing with the emotional after-effects of a fire in your home, you don't need the added stress of upheaving your family from their home or suffering the financial impact of having to stay in a hotel or moving into rented accommodation. In order to ensure you can remain at home, we have designed temporary kitchens to suit any space no matter how big or small it may be. Our junior capsule kitchen offers an excellent solution for properties with limited space. Each of our kitchens is fully equipped and self contained and causes no damage to your property. The capsule kitchens can also be installed in any part of your home.
Renovations
If you are renovating your home,it can often mean that you are left without a kitchen. As a kitchen is the heart of any home, we designed all of our temporary kitchen solutions to provide everything you need to ensure you and our family and friends can enjoy the rest of your home even if your usual kitchen is out of action.
A temporary kitchen is a great way to add a sense of normality to your home, even if your usual kitchen is a shadow of its former self. We developed all of our temporary kitchen solutions, including the XL Capsule Kitchen for that exact reason, to ensure that your house still feels like your home. Designed by our in-house team, the XL Capsule kitchen can be installed in any area of the home whether it be a spare bedroom, your living room or any other room that is convenient for you.
Accident or Illness
If you have suffered from an accident or illness that has resulted in a serious injury or you have been left with a short term or long-term disability, your home may need to be adapted to suit your needs. Home adaptations can take long periods of time. if you want to continue living in your home while it is being adapted, we provide adaptive kitchen solutions that centre around your specific requirements.
Above are just some of the ways our temporary kitchens can help you.
To learn more about the temporary and adapted living kitchens that we provide, click here.
Proud to work with all UK insurers
We have developed an excellent working relationship with all UK insurers, helping them ensure their customers receive the temporary solution that enables them to remain living in their home with their family, pets and mod-cons even if a disaster has struck.
Our friendly team are able to provide temporary kitchens, bathrooms, storage and other essential solutions to customers anywhere in the UK and provide a fast response and build time that our customers have come to know and love.
You can learn more about all of our temporary solutions by clicking here.