If you have found yourself in an accident or with an illness that has left you disabled and unable to live in your home without adaptations, it is common to think you'll have no choice but to move out or struggle, however, our disabled kitchens offer the perfect solution that can ensure you can stay at home.
Each accessible kitchen extension is created with your specific requirements in mind, whether it's to make it more accessible to those who have had a life-altering injury, received a life-changing diagnosis, or now have a condition that limits their mobility. There are several things we consider when building your accessible kitchen extension.
Kitchen Counter Height
When designing our adaptive kitchens, we consider the height of the kitchen counters and other appliances. Counters in typical kitchens tend to be 36 inches in height, which would be too high for someone in a wheelchair. We adapt our kitchens so that the counter height suits our customers' requirements and is accessible to them. We also ensure that the counters in our kitchen are not obstructed by base cupboards to allow for knee and toe clearance.
Kitchen Appliances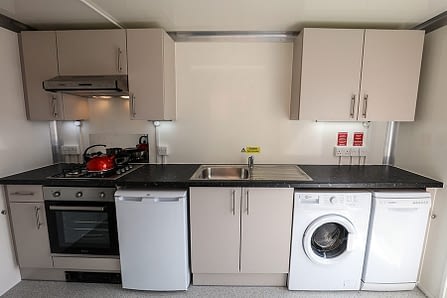 We want you to feel comfortable and safe in our adapted kitchens, which is why we ensure that everything is positioned safely and within reach. All appliances that are installed or added to your kitchen, are placed at a lower height that is accessible for you. As well as this, we adapt these appliances so that they can be used safely, there is the option for touch hobs and ovens or buttons on the front so that you do not need to reach across the hot appliances at any point. If there is a dishwasher in your adapted kitchen, we can raise this to ensure it is accessible and increase access.
Floor Space in disabled kitchens
Another thing that we consider when creating your adapted kitchen is the floor space, we recognise that if you are a wheelchair user you may need more floor space so that you can easily turn around whilst in your chair. We will ensure that no matter what the size of the kitchen, there is always enough room for you to turn around.
Door Width
We understand that for a wheelchair user or a person using crutches to comfortably navigate within their adaptive space, the door width needs to be larger than average, this is something we consider when building your disabled kitchen space. Installing a wider door and lever-style door handle means it will be easier for you to open and get through the door.
Disabled Kitchen Aids
As well as the basic requirements for a disabled kitchen space, we can also provide further kitchen aids that will enhance your experience in your adaptive kitchen. Our designers can incorporate a lowered sink and storage area and easy to use taps. There are also other elements we can include such as handrails to help you get around the kitchen, easy to open drawers and lowered plug sockets.
Above are just some of the things that we consider when building your disabled kitchens that are part of our adaptive living solutions, however, every one of our adaptive kitchens is designed for your unique requirements. Our team of installers survey your home prior to manufacturing your bespoke kitchen to ensure that all of your requirements are catered for and delivery and installation is as efficient as possible. We want you to be at ease, so we make sure that once your kitchen is completed, it is yours for as long as you need it, with no minimum or maximum contract requirements.
To learn more about the adaptive solutions that we provide, click here.