The Temporary Solutions Group is the leading provider of accessible bathrooms and temporary home spaces. We've worked closely with the NHS, occupational therapists and medical professionals to gather a wealth of knowledge on adaptive bathroom spaces.
We know how important it is to feel safe and comfortable in your own home, especially when living with a disability. We pair our strong advocation for your independence with our sturdy, reliable and liberating bathroom adaptations so that you can be sure that your home still remains your own safe and familiar space to unwind and relax in.
Why Choose a TSG Accessible Bathroom?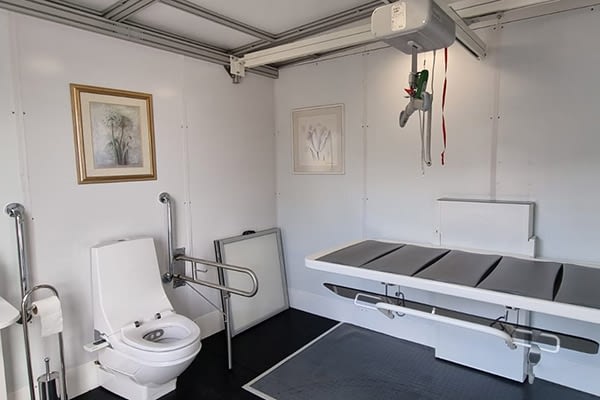 Your bathroom is one of the most important rooms in your home, so when it comes to accessible options, the Temporary Solutions Group are here to help you feel comfortable and confident in your adapted living space. Relax and leave your renovation in our safe hands so that you can finally feel more liberated in your home.
Our friendly team will perform a survey of your property and talk with you to discuss your specific requirements before creating your bespoke new accessible bathroom that will immediately feel like part of your home. We pride ourselves on our ability to enrich the lives of our clients, providing them with a homely space to feel clean and tidy, with your dignity and wellbeing at the forefront.
How We Can Help You
Here are just a few of the many accessible options that the Temporary Solutions Group can bring to your home to make your space more comfortable and practical.
Doc M Compliant Wetrooms
We supply wetrooms that adhere to and uphold the Doc M values and standards, so you can be sure that your accessible bathroom will allow you ease of use, safety and maximum comfort. Learn more about Doc M standards here.
Walk-in Shower
Our accessible showers are designed for your everyday support needs. We know how important a relaxing and refreshing shower is, which is why our disabled-friendly bathrooms are equipped with walk-in showers with high quality electronic hoists, shower seats and shower beds- the choice is yours.
Mobility Hoist
Your safety is our top priority, which is why our mobility hoists are sturdy, reliable and comfortable. We want to help you navigate your accessible bathroom with dignity and ease, and our hoists are guaranteed to provide you with that much-needed sense of security when it comes to your personal hygiene.
Grab Rails
Grab Rails can be securely fixed to your walls to allow disabled users the freedom to move around their space with confidence. Feel liberated within your own home again with the independent movement ensured by our sturdy grab rails, which can be installed at any height.
Raised height toilet seat
If you or your loved one finds it difficult to transition on or off a toilet, we can help with our raised height toilet seats. These seats can be adjusted to your specific height requirements and needs, ensuring your comfort and dignity. We truly care about your personal independence, so you can rest assured that our raised height toilet seats will increase your mobility and freedom in the bathroom.
What our Customers are Saying:
"From the moment the service team installed the bathroom for me it has made my life so much easier. I'm extremely grateful I'm able to stay at home." (Mrs Fairbank)
"The bathroom has allowed me to go home, bringing me some familiarity back into my life and really helping me get out of the hospital." (Mr Gibson)
We're here to help
The Temporary Solutions Group cares deeply about your freedom, accessibility and dignity when it comes to your personal hygiene. We have a bespoke range of adaptive bathroom solutions created with your wellbeing and comfort at heart, so no matter what adaptations you require, your house will still be your home. Simply fill out the form below to send an inquiry today!