There are many things in your home that you can live without for a period of time, but unfortunately, your bathroom is not one of them. Many people fear that if their bathroom is out of use for whatever reason, they will have to move out of their home temporarily or rely on friends and family. At Temporary Solutions Group, we understand that the bathroom is an essential part of any home, which is exactly why we created our temporary shower hire and bathroom solutions.
When would you need a temporary bathroom solution?
There are several reasons that your bathroom may be out of use and, you would require a temporary bathroom solution. Whether your bathroom is out of use due to a leak, flooding, a fire or simply because of house renovations, we have a bespoke range of suitable products.
Our innovative solutions
Our range of temporary bathrooms includes our unique internal pop-up shower, in addition to our state-of-the-art bathroom suite, which can be installed on your driveway. We also provide temporary bathroom solutions that include disabled access, which is bespoke and designed to meet the needs of clients.
Capsule Shower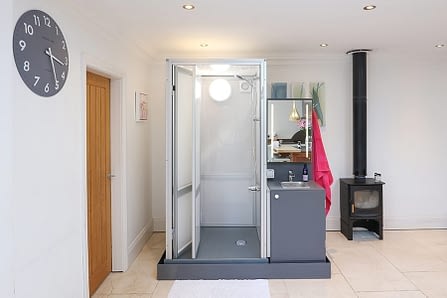 Our innovative Capsule Shower is perfect if it is just a shower that you need as opposed to a whole bathroom, it has a unique design that features a stand-alone sealed shower unit, which ensures that no damage is done to your property no matter where it is installed. Your temporary shower hire includes a 1m x 1m shower tray, basin, illuminated mirror, extractor fan, shaving socket, storage cupboard, hot water cylinder and towel hooks.
The Bathroom Suite
The Bathroom Suite is a temporary bathroom solution that has been designed and manufactured by us, it is great for families or those of you that require a full set of bathroom facilities in your time of need. The portable nature and the unique pod design mean that our team of installers can rapidly transport and install your bathroom suite in no time at all, it can be built to conveniently sit on your drive and includes all of the amenities that are expected of a modern bathroom including a shower, vanity unit, hairdryer, heated towel rack and more.
Above are just some of the reasons you may need our innovative bathroom solutions and what you may require them for. All of our solutions including our temporary showers are approved by insurance companies. We are incredibly proud to work with all UK insurers as well as the NHS, solicitors, occupational therapists, charities and more to ensure that every one of our clients receives a tailored solution that meets their specific needs.
Our main aim is to relieve the burden on individuals, insurers and hospitals by guaranteeing that everyone, regardless of their circumstances, can stay in their home and have full use of every area.
To learn more about the temporary bathroom solutions that we provide, call us on 01244 888299 or fill out our simple enquiry form.